You'll find our selection of the best Parisian macarons here, so that you may enjoy the best of these colorful and flavorful treats.
WHAT ARE MACARONS AND HOW ARE THEY PREPARED?
Macarons are small round cookie-like pastries, with a crunchy exterior and a soft filling in between layers. They're made with egg whites whipped into soft peaks, almond powder, powdered sugar and a touch of food-dye. These bite-sized treats are quite capricious and require a lot of discipline and meticulousness in their preparation.
Always stocked in an upright position, once they've been prepared they need to be kept in the refrigerator overnight, they are then packed away into containers and given another 24 hours before being ready to taste.
WHERE DO MACARONS COME FROM?
According to history, macarons first appeared in Italy during the Middle Ages, and it was Catherine de Medici who had them brought to France on the occasion of her wedding. As the story goes, bakers at the time presented them to King Louis XIV for his wedding, and the recipe continued to evolve incorporating jams, spices and new flavors. At the beginning of the XXth century the Parisian macaron is born thanks to Ladurée and remains to this day a worldwide phenomenon.
THE BEST PARISIAN MACARONS
We hit the streets of Paris, tasting and buying some of the best macarons this city has to offer. Of course, we weren't able to try each and every one; but we were able to have a clearer idea of the quality they should have, and the different flavors artisanal pastry chefs use and develop. Without further ado, here's our list of the best macarons in Paris…
Pierre Hermé
Pierre Hermé's macarons are a bite-sized explosion of flavors. This French pastry chef works hard to combine textures, flavors and fragrances in his creations. With a wide variety of flavors, it's hard to choose what to take! We recommend an all-time classic: the Mogador, a combination of milk chocolate and passion fruit… simply irresistible; we'd also highly recommend one of his latest creations: the Chloé, chocolate and raspberry. Every bite is so rich, you can quickly feel all the flavors and fragrances invading your mouth, it's almost magical.
Price: A box of 7 macarons sells for 19.90€
Where: Pierre Hermé has several locations in Paris, from boutiques to stands and now even coffee shops. To find which location suits you best, check out their official website: Pierre Hermé.
Jean-Paul Hévin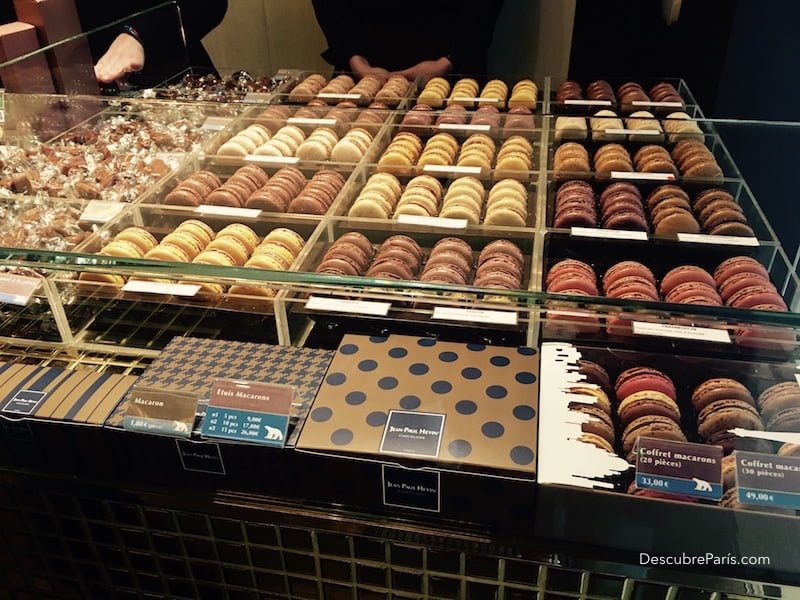 This chocolate and pastry master was a delightful surprise. His dark chocolate macaron, named the Best Macaron in Paris in 2019, and the Normandy (with a touch of salted caramel) literally melts in your mouth. Crunchy and soft, these macarons are near perfection. They have definitely earned their place on this list! Bonus: they also make amazing chocolates, no one can leave a Jean-Paul Hévin boutique empty handed!
Price:1.80€ per unit The box of 5 sells for 9€
Where: There are six locations in Paris you'll find the list here
Maison Lenôtre
At Maison Lenôtre you'll be craving so much more than macarons. This notorious Maison will have your mouth watering between their croissants, pain au chocolat, pastry selection, salads, and more. Their macarons are on point with a crispy exterior and smooth filling, you'll have a hard time not buying the whole store! Our favorites are their Intense Raspberry and Hazelnut (noisette) macarons.
Price: 1.80€ a unit.
Where: Their boutiques can be found all over the city, and extend to Cannes as well. We have the list right here just for you. We recommend checking out their notoriously beautiful store at Victor Hugo, as well as the boutique near the École Militaire, located by the Eiffel Tower.
Sadaharu Aoki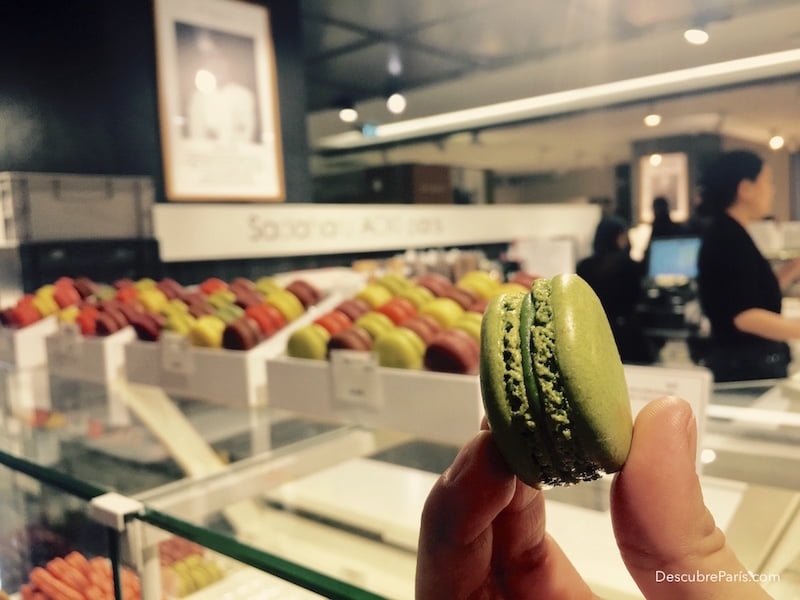 This Japanese Chef with an obsession for perfection quickly made a name for himself within the Parisian pastry universe and currently has 5 locations in the City of Lights. Besides traditional flavors, Aoki offers Hojicha (Japanese green tea variety) and the recently trendy Matcha. The latter being our favorite! Delicious.
Price: 1.90€ per unit
Where: You can check out the list with their different locations on their official website.
Ladurée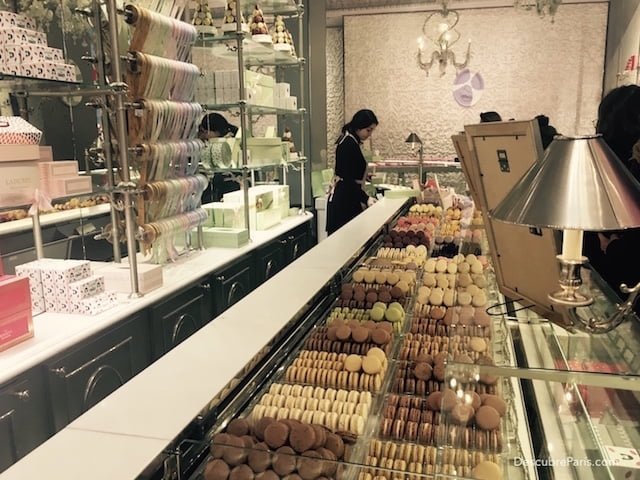 Having strong ties to the origins of the world renown Parisian macaron and the arrival of Tea Rooms to Paris, Ladurée has made its presence and high-standing stick around, making it one of the world's most famous brands. With thirteen boutiques in the City of Lights alone and a heavy international presence, Ladurée is one of the biggest ambassadors of French Pastry around the world.
Price: A 6-piece box set sells for 17.10€
Where: From Place Vendôme to the Champs Elysées, Ladurée can be found almost anywhere in the city. You'll find a link below to the full list, boutiques and tea rooms, to choose from: Full list Boutiques Ladurée.
Is there a place to try them all?
There is one place, usually very crowded, but with an entire area dedicated to showcasing many different pastry chefs and chocolatiers alike. We're talking about the Lafayette Gourmet, right infront of the Galeries Lafayette Haussmann; this place brings together some of France's best artisans and renown Chefs into one space. Don't hesitate to swing by there if you don't have much time to hit all the boutiques in different spots of the city!
Address: 35 Boulevard Haussmann, Paris
And… there's more!
In case you don't have time to check out some of the boutiques we mentioned above, know that there are so many great pastry shops and cafés where you'll be able to try the famous Parisian macarons:
Arnaud Larher
Cafe Pouchkine
Hugo et Victor
Cyril Lignac
Dominique Saibron
Sébastien Dégardin
Pierre Marcolini
Laurent Duchêne
Dalloyau
Le Monde Du Macaron
Carette
Angelina
La Grande Epicerie de Paris.
Share your Parisian macaron experience with us on Facebook or Instagram! We can never get enough of these sweet, delicate treats!
Bon Appétite! Bon appétit
Á bientôt !