Chocolate as we know it is a wondrous treasure filled with many different benefits, characteristics, and even personality. Cocoa beans, chocolate's base ingredient, is a marvelous and universal ingredient that allows itself to be transformed, similarly to coffee beans, into a treat for all of our senses, creating a world of passion and flavor around it.
Europe's chocolate production uses cocoa beans that come from Central America, South America, Africa and Asia. In Paris, you'll find all sorts of different chocolates to fit every mood and craving, but at Discovering Paris we decided to do a little research of our own, working on (and tasting!) different chocolatiers work to provide you with the best chocolates in Paris.
LA MAISON DU CHOCOLAT: Elegance
The House of Chocolate presents a timeless collection of chocolate confections, characterized by their elegance and delicate balance. We were pleasantly surprised by the Quito (like the Ecuadorian capital) with its smooth and delicate filling. We also enjoyed the Vanilla Bourbon; you'll sense the vanilla taking over as the chocolate melts in your mouth.
You can feel that a sense of tradition and attention to details are at the heart of this maison. It was founded 40 years ago by Robert Linxe, inspired by haute couture maisons. This brands deserves a place in our list of the best chocolates in Paris.
We visited their boutique at Rue François 1er in the 8th arrondissement and fell in love, because it is end-to-end Parisian chic. We were able to discover the Brand, its principles and even sneak a taste of their wonderful chocolate-filled macarons. Their passion fruit macaron can only be described as an explosion of flavor. They also make delicious pralines and truffles (even champagne flavored ones!). Maison du Chocolat has made its way into the international market setting up boutiques in New York, Tokyo, Osaka, Hong Kong, Macao, Seoul and Kuwait.
Prices: As they vary between chocolates, pastries and other confections the following information is simply an example: a box of 14 chocolates is priced at around 18€.
Address: We visited their boutique at 52 Rue François 1er, Paris 75008. Open Monday- Saturday from 10 a.m. to 8 p.m. (20h) To check out their other addresses take a look at their website:
Website: www.lamaisonduchocolat.fr
PIERRE MARCOLINI: AUTHENTICITY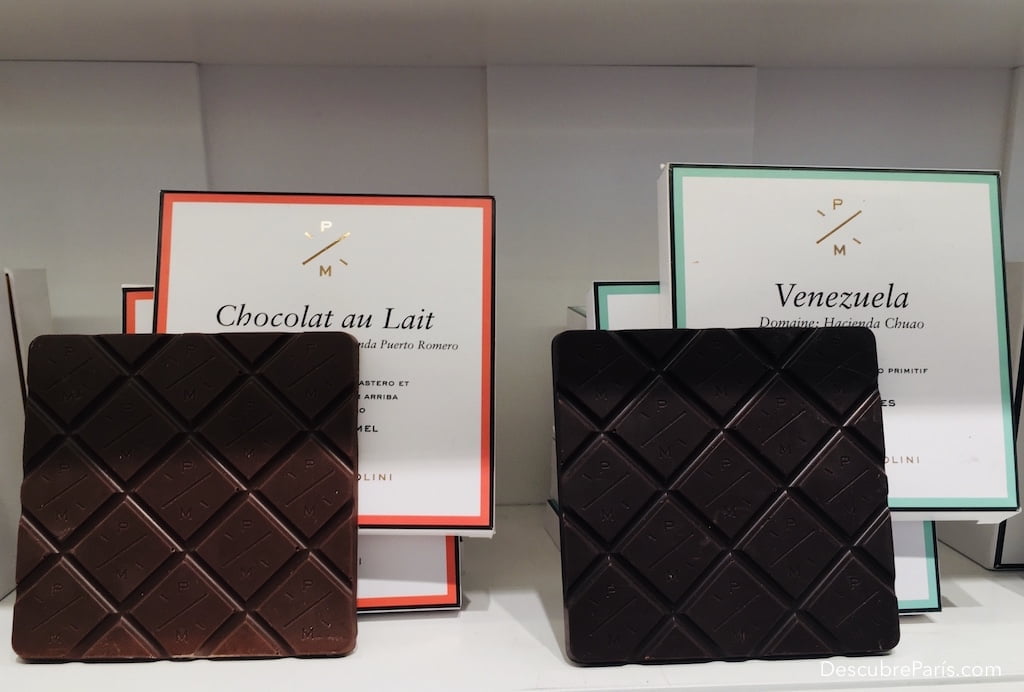 Marcolini is an expert Belgian chocolatier with Italian roots who found his passion for cacao at a very young age. He is also known for being very engaged with sustainable production, which is why he roasts cacao beans in his shop in Brussels (this is not a common practice amongst chocolatiers). They select their plantations carefully and only work with those that do not employ children.
Out of their collection the Venezuela really stood out to us, with its coffee and berry notes. Simply exquisite. Marcolini's chocolates are the perfect mouthful of intense, authentic aromas perfectly combined with the renowned bitterness of the cocoa bean.
His boutique draws a beautiful contrast between the all-white setting and the different tones of the chocolates showcased around the boutique, as well as his famous macarons.
Prices: Individual chocolate pieces start at 1€.
Address: The shop we visited is located at 235 Rue Saint-Honoré, Paris 75001. Hours: Monday -Saturday from 10 a.m. to 7:30 p.m. (19h30) and Sundays from 11 a.m. to 7 p.m. (19h) He has 6 other boutiques in the city.
Website: eu.marcolini.com
JEAN PAUL HÉVIN : PASSION
We came across Jean Paul Hévin's shop when we were selecting The Best Parisian Macarons for our blog Hévin's macarons are nothing short of amazing, and his chocolates are up to par. We fell head-over-heels for the Pablino, a sweet and delicious chocolate with a lot of character, its diverse notes allow you to really appreciate the diversity of the high-quality cocoa beans, known as the "grand cru" in French.
The boutique is organized in the style of a chocolate "bar", with vendors located in the center of the boutique surrounded by all the different chocolates they offer. On one end, you'll find chocolate bars (both popular in demand as well as those within a more affordable price range); on the other end you'll find individually sold chocolates pieces, pralinés, macarons, and oh la la… pastries! Jean-Paul Hévin is a passionate pastry chef with a profound love for chocolate and heavily influenced by Japanese culture, a true example of balance, discipline, and quality. That's why we put them in our list of the best chocolates in Paris.
Prices: Set of 12 chocolates for 15.50€. Chocolate bars start at 3.90€.
Address: We visited two boutiques: 41 Rue de Brétagne 75003 and 108-231 Rue Saint-Honoré 75001 (near Place Vendôme). Hours: Both open from Tuesday to Saturday, 10 a.m. to 7:30 p.m. (19h30)
Website: www.jeanpaulhevin.com
JACQUES GENIN: ORIGINALITY
From the moment you walk into his boutique in Le Marais, Jaques Genin has you wrapped around his finger. One of his most emblematic pieces is the Mint Lover, the minty flavors wrapped around the depth of this dark chocolate piece. Balanced and pleasantly surprising.
The boutique itself is pristine, embodying minimalism and focusing your attention towards the delicious confections that fill the room, presented as if they were precious jewels.
In addition to its intense chocolates, Genin produces (on site) some spectacular candies. We tried a mango with passion fruit and we can tell you that we're wanting more.
This is, without a doubt a stunning chocolate shop in which you can feel the sense of detail, respect for the ingredients and their original flavors as well their uniqueness. It's reputation is such that hundreds of tourists, mostly coming from Japan, make the trip to purchase these delicious chocolates; after all, they are only sold in Paris.
Prices: These vary as they are sold by weight (kg).
Address: The boutique we've described is on 133 Rue de Turenne, Paris 75003. Hours: Tuesday through Sunday from 11 a.m. to 7 p.m. (19h00) and until 7:30 p.m. (19h30) on Saturdays.
There is another boutique on 27 rue de Varenne, Paris 75007.
Website: www.jacquesgenin.fr
CHOCOLAT ALAIN DUCASSE: THE PURIST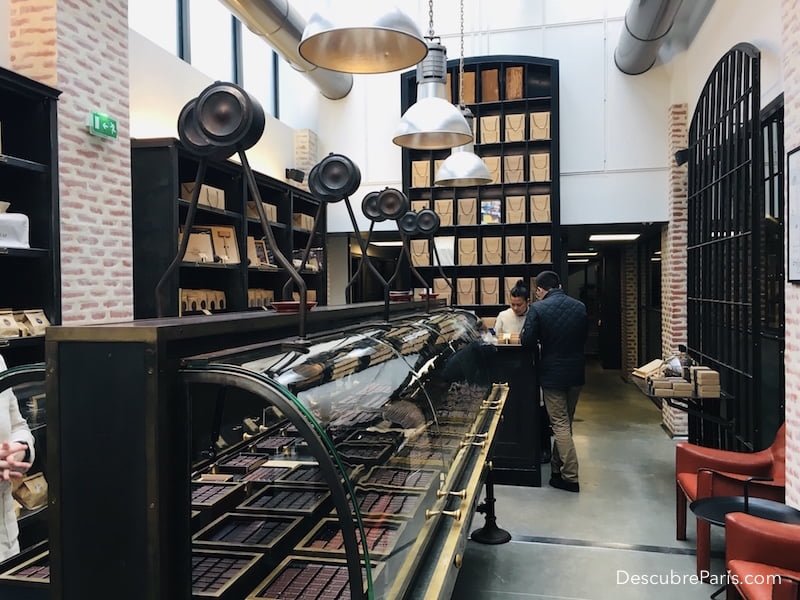 World-renown Chef Alain Ducasse decided he wanted to produce the chocolates for his restaurants. This led to the creation of La Manufacture by Alain Ducasse in Paris. His chocolates are held to the same rigorous standards he is known for, as well as respecting the essence of the ingredients, all of which are carefully selected and of the highest quality.
From the moment you enter the Manufacture your senses are invaded by a subtle and delicious fragrance.
The concept of a factory, of a manufacture, have been beautifully translated in the décor of the boutique. If you are a devoted chocolate lover, you'll find yourself right at home with a selection of chocolate in their purest form.
The Madagascar is a chocolate; but it is so much more than that as you can savor the deep flavors obtained as they strive to highlight all of the aromas of the cacao bean. There aren't any whimsical flavors, however all the chocolates remain very rich in flavour and will have you on a cloud from the first bite. We also tried the Vanilla, and the idea remains the same; the vanilla isn't there to add or complete the chocolate but rather to exalt it. A unique tasting experience.
The boutique's team is very friendly, and they took the time to explain every little detail to us, and honestly, we were charmed. Without a doubt, one of the best choclates in Paris.
Prices: 12-piece box set sells for 19€.
Address: There are 9 locations in Paris; we visited the boutique located at the Manufacture itself at 40 Rue de la Roquette, Paris 75010. Hours: Monday-Saturday from 10:30 a.m. to 7:30 p.m. (19h30). Check their official website for details on opening hours for the other locations.
Website: www.lechocolat-alainducasse.com
Finally, here are a few tips to make the most out of your chocolate tasting (and purchasing!) experience:
Don't hesitate to ask the chocolatier or vendors about the percentage of cocoa, fillings, or any other information related to their products. According to the Club de Croqueurs de Chocolats of France, a good chocolatier should be able to answer any and all questions, as they love talking about their product.
Avoid buying chocolate during the warmest months of the year.
According to experts, chocolate should be tasted similarly to wine, in different stages, slowly, allowing the taste buds to awaken and indulge, so…take it easy
To properly store chocolate, choose an airtight container, and keep it in a dry and cool area.
The ideal temperature to keep chocolate in is between 16°C and 18 °C (61°F-64°)
Avoid keeping them in the fridge, but if you must make sure to keep them in one of the bottom drawers and pull them out a few hours before tasting.
When tasting, make sure to start by the pieces that have the lowest concentration of cacao.
Water is the best choice to pair with chocolates when tasting, as it allows for all of the aromas to fully express themselves in your mouth. However, if they are a little less high-end you can pair them with tea, coffee, or even with a liquor such as cognac or rum.
Certain chocolates need to be consumed shortly after their purchase, make sure to ask the chocolatier/vendor before you leave the shop!
Chocolate is part of France's gastronomic patrimonyand of Europe's Easter traditions. We hope that chocolates lovers (and those that are simply curious as well!) can soon enjoy these wonderful delicacies, made with such care and precision.
We haven't stopped dreaming and neither should you!
Paris awaits…