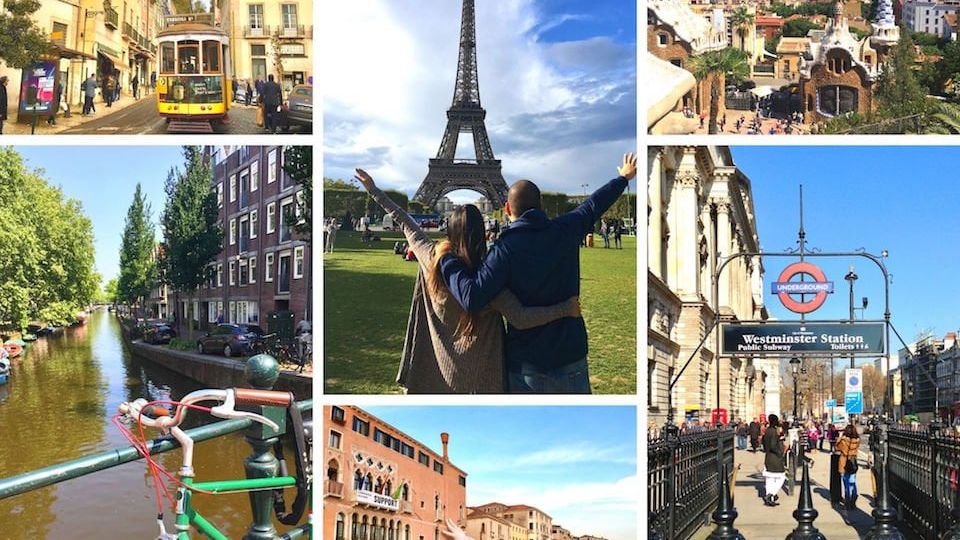 It is time to dream of Europe again. Little by little, each one of the countries in the Old Continent will open back up to normal life after the COVID-19 crisis; first locally, then to other areas of Europe, and finally tourists from other continents will be able to visit. This is the best time to envision and plan the Eurotrip that best suits you.
The best person for organizing your trips is yourself. It doesn´t matter if you´ve never done something like this before. What matters is that you enjoy it (because all trips begin the moment you start planning them), and look for clear and trustworthy information so you can be prepared. Preparation for any situation is the true measure of success for any journey, especially in a post-covid world it is best to avoid mishaps. This is why we wrote this article, a step-by-step guide to envision, creating, and planning your first journey to Europe, your first Eurotrip.
There are many questions that you will need to answer, here we share the 10 main ones you need to consider before organizing your first Eurotrip; along with suggestions on things to keep in mind. Additionally, you can download a free Europe travel planner we've created. Go to the end of the article or to de side bar if you're on your desktop computer, or at the bottom if you are in your mobile phone to get it.
1 . How many days can I travel?
All of your planning will depend on this. Many people only have 15 vacation days, others 20 and some even a month or longer. It depends on work, family, professional commitments or simply budget. In all cases, if you are coming from another continent, you will try to stay as many days as possible, that way you can truly make the most of your "investment" in plane tickets. But remember, the most you can stay in any Schengen territory without a visa is 90 days.
Setting the number of days for your journey will give you a guiding framework for your plan, later in the article we tell you how many days you could spend in each city, but for now you just need to decide overall how many days will your vacation span.
Keep in mind that it will be a whole day of travelling both when arriving and leaving. Transatlantic flights are very long and can be very tiring, especially if you are doing layovers. That is why you should budget them in the amount of days you will be on holiday. For example, if you plan on visiting for 15 days, add two more for the flight days.
2. What time of year should I travel?
The second key question for organizing your first eurotrip is what time of year is best for traveling. We could say that Europe is charming any time, and this is partly true, but again, it depends on: how much you are willing to pay, when you are available to travel (some people can only travel in December, others can choose or negotiate dates), if you are willing to endure the cold in Winter or extreme heat in Summer.
Of course, some seasons are nicer than others, and some are cheaper than others. On our website we explain more about seasons and weather. In our opinion, the best seasons to visit are:
From May to the end of June: just before Summer, you avoid the peak of the heat which can be pretty exhausting and the high prices of busy seasons.
Mid-to-end of September through the start of November:the first weeks of September airfare is very expensive (all the international students are arriving in Europe and the Europeans are beginning their vacations) this is why we suggest the second week of September, besides the start of Autumn can be very pretty.
Either way, don´t miss our section Before Your Trip, where we explain how to dress for each season. Even if it´s a guide mainly for Paris, you can use it as a baseline for the rest of European countries.
3. What do I want to visit and for how many days?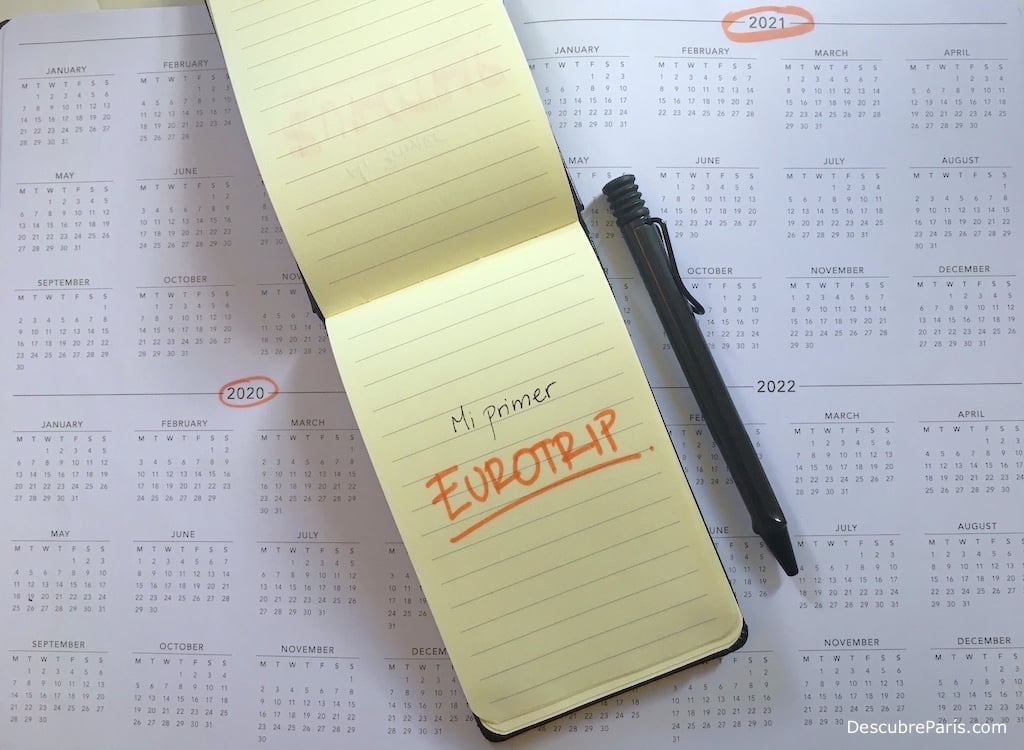 There are a lot of things to consider here, mainly your dreams, preferences, priorities and capacities. Traditionally, on the first Eurotrip people visit the main cities (the ones we all dream about) and if there is a second one they add the other cities and more specific tourist attractions.
The most visited European cities are: Paris, Amsterdam, London, Florence, Venice, Berlin, Rome, Barcelona, Brussels, and Madrid. Many choose based on the places they have always wanted to visit, because some cities you really wouldn't want to miss.
To make choosing easier:
Make a list of the cities you want to visit (pen to paper, Excel, anything is valid, and remember you can download our free travel planner.
Find them on a map: maybe on some forgotten world map found in your house or on Google Maps (My Maps is a very good option that allows you to create your own maps where you can highlight the cities you want to go to).
To visit big capital cities like Paris, London, Rome or Berlin, we suggest scheduling between 4 or 5 days, ideally. This is because one of the days will be "lost" travelling to the next destination. It may sound like an exaggeration, but travelling times in capital cities can be long, especially if you are travelling by plane and need to arrive earlier to the airport. If you also take into account commuting to where you are staying and checking in time really will start flying without you noticing.
For cities like Barcelona, Amsterdam, Florence, and Madrid we suggest between 3-4 days. For mid sized cities like Brussels it can be two days and for small towns like Bruges or Venice, 1-2 days.
We suggest this because we believe a good Eurotrip should allow you to take in every city, and if you rush through them it will feel like a marathon and it will leave you exhausted.
You will always miss something. Seeing everything is very hard, but seeing the most important things is completely possible.
Of course, for cities like Paris, it is perfectly possible to visit even in a few hours if you have the right tools. Take a look at our Detailed Travel Guides, designed to visit Paris in 1, 2, 3, 4, or 5 days. We calculated and thought everything for you, so you waste no time.
4. How do I make my first itinerary?
Another key question while organizing your first Eurotrip deals with your itinerary. You can make it by hand or in Excel, where you can create a chart with columns for the cities and the corresponding days you want to visit.
We also suggest adding the following information:
Hotel Nights: this will let you have a clear picture of how many nights will you be actually spending in each city (it will come in handy when budgeting) and how much free time you will have so you don´t rush through your visit.
Travelling Times: don't skip this step We all need to take into account the time it will take to move from the airport, train/bus station to our place of lodging and vice versa. Don't forget to budget in waiting times and early arrivals, if you are flying you need to be at the airport earlier depending on where the airport is located and the type of flight. Flights within Schengen territory are considered local, which means an hour and a half before. For flights outside of European territory you will have to arrive two or even three hours before. We recommend reading our article Everything You Need to Know for a Peaceful Flight from Paris.
Planned Activities: any activities that are a must-do for you will shape your itinerary. Sometimes we dream with specific activities like a Venice gondola ride, going up the Eiffel Tower or visiting the Palace of Versailles, for example. Doing all of them will take out time from our schedule.
Remember this is only your first draft, you will be adjusting it and changing it. Maybe add more days in one location, and taking out days from another, this is a work in progress, and that takes time.
5. What documents do I need?
Like we mentioned in our website, in our section Before the Trip, it is fundamental to have these documents ready before any trip.
Visa: an important step is confirming if you need a visa for the countries you want to visit. For example, the United Kingdom is not part of the Schengen territories and now it is also exempt from the European Union, which is why if you want to visit London you will have to request a Visa depending on your country of nationality. Citizens of certain countries may require or not a visa to enter the Schengen Space. For example, the following countries in Latin America do require a visa to enter the Schengen Space: Bolivia, Cuba, Dominican Republic, Ecuador. Please take a look at the website of the embassy of the country where you wish to stay the most days so you can process your visa.
If you don't require a visa you will still have to be able to present the motives of your trip. This means that in migration the authorities could request information regarding your itinerary, hotel reservations, return tickets, and monetary resources during your stay (cash amounts as well as debit and credit information).
Remember a valid passport, of at least 3 months validity.
ETIAS Permit: the European Travel Information System will allow European authorities to know beforehand who will be entering Schengen territories. This procedure will be done before the trip, online, and it will cost between 5€ y 7€. Theoretically it will be working starting in 2021.
Medical Insurance: it is better to have it than to not have it. Although it is not an easy choice to make, take into account factors like coverage and how the insurance will take care of you and your partners in case of any eventuality. Think of it not an expense, but peace of mind. Remember it can be asked in Migration.

6. How to choose lodging?
A thing to consider for your first Eurotrip is how to choose where you will be staying. Experience has taught us that it is very important to consider the type of lodging you´ll want: if you feel comfortable in hostels, and even Couchsurfing (crashing on the couch of someone you don't know) those can be very affordable solutions. On the other hand, we have AirBnB, traditional hotels, and even staying at a friend´s or relative´s.
There is no universal answer, but we do suggest starting research early and calmly.
What we say to people who write to us is:
Check out options in Booking.com, Trivago.com, Hostelworld, and AirBnB. We are not saying these are the only or best options, but it will give you an idea on prices, offer and locations. It is a good to go on these sites to get a ballpark idea of how much it would cost for the amount of days, and travelers you will be visiting with.
Compare locations with Google Maps according to your criteria and needs. In Paris, for example, you can check out this article we wrote on the areas you should avoid.
Take into consideration how close they are to metro lines and other forms of public transportation: this is very important even if you are staying with friends or family.
Read the comments on the location of the hotel, hostel or apartment: both negative and positive reviews will give you a good picture of the area.
If you are considering a Hotel, check out their own website first, they generally have better offers than if you find them through an intermediary.
Keep this information in mind when creating your budget. It is very important to have a clear idea of your budget to avoid problems and bitter moments later on. You will adjust it little by little until you are certain of your decisions.
Once you are sure, make the reservation but take a close look at cancelation policies; sometimes paying a little bit more is better in case you may need to cancel (especially taking into account what we learned with the pandemic).
If you can stay with family or friends: remember that in Europe apartments can be quite small, so have open communication with your host about location, dates and anything else you consider necessary. And last but not least, remember proper manners and civility, they will be key when sharing living quarters. This also applies to couchsurfing and hostels
If you're including Paris in your first Eurotrip, you can check on our website the section Choosing your Accommodations.
7. How to move around in Europe?
Europe has a big advantage in that it is very well interconnected: planes, trains, buses, carpooling, and you can also rent cars across countries. Let's do a little overview on each of these options, particularly what you should avoid or keep in mind:
Planes:
There are many cheap tickets to move across Europe. Here is what we suggest you to consider:
– Often, the cheapest flights are very early in the morning so if the airport is far away and public transportation is not yet running you will have to get a taxi or Uber to get to the airport, which means an extra cost.
Some airports are very far away from the cities, such is the case with the Paris-Beauvais Airport, where many of the cheaper flights land. They have an exclusive bus that leaves much earlier from Paris according to your flight time.
So while flying can be cheap and will save you time, you also have to consider that you need to arrive earlier and this can mean extra time and money.
Always double-check the names of the airports so you don't arrive at the wrong place. Cities like Paris, London, Rome, and Berlin have several airports, so keep this in mind.
The cheaper flights will have little to no extra baggage; most will only allow a very small bag of 10 – 12 kilos (depending on the airline). If you want to carry a bigger bag consider the prices and conditions of each airline, this can affect the final price of your ticket, and of course your budget.
Trains:
The trains in Europe are fantastic, you get to see wonderful views and they are more comfortable than buses or trains. The downside is how long they take, it can take much longer to travel by train. But it is worth considering it and comparing prices. It is actually much easier to take a train downtown in the city you are leaving and arriving downtown to the city you are travelling to (as opposed to travelling by plane, where the airports are so far away from the cities, and this will add costs of travelling fare and travelling time). Things to keep in mind for your frist Eurotrip:
In Europe trains are very punctual, so make sure you arrive at least half an hour before the official time the train leaves so you have time to look for your assigned wagon.
Trains have a final destination and make several stops. But these are very short. So don't risk it by getting off the train, remember that announcements are made in the local language (sometimes also in English) and you may not understand what is being said. So keep alert and if you absolutely need to get off, don´t go too far away.
Remember the name of your destination station and be ready to get off (personal items ready, coat on, charger in your bag, for example) once the announcements that the station is arriving are aired. Often the train will double back or keep going and you will not have gotten off in time. If you are lost and confused do not be afraid to ask the people around you.
Night trains are also a good option to save time and money, especially if you are travelling with a group. This website has information on the night trains in Europe: thetrainline.com.
Buses
The bus is a cheap alternative to get from one place to another. There are several companies that cover most of Europe. Here are some things to consider:
Some people use buses to "save up" on a night at a hotel, they travel at night between cities or countries. This is very good, but consider comfort. We have received several testimonies from DescubreParis.com customers saying they actually arrive completely exhausted to Paris, and then walking and sightseeing leaves them wiped out. 10-hour bus rides can wreak just about anyone's back. If this is not an issue for you, do it (and if tickets are very affordable consider getting two seats so you can be more comfortable), if not try to leave the bus for relatively short distances, 3-4 hours tops, that way you balance saving money and energy.
The bus rides make a few stops so passengers and drivers can rest, but they are very short so make sure you are not left behind.
The best known companies are: Flixbus, BlablaBus or OuiBus y Eurolines.
Keep in mind that sometimes bus stops are not actual stations or notable buildings, but more like big parking spaces where the buses leave or arrive.
Don´t forget your personal belongings.
Carpooling
Sharing a ride is a good option for a lot of people. Both for the driver, since they get to share the costs with the other riders, as well as for the rider who gets to travel by car in a more affordable manner.
BlaBlaCar is the carpooling leader in Europe. Through this platform a driver can present a route, say where they will start, at what time, if they are smokers or not, if they accept pets or not, and, of course, the price.
It can be an interesting alternative if you feel comfortable with it and of course if you have data on your phone since you need to be able to contact the driver.
It is important to keep an eye on how this option will continue with the social distancing restrictions generated by Covid-19, since it is true you will be sharing a car for several hours with strangers. There is a lot to consider.
Renting a car
Renting a car in Europe is a very feasible option. Keep the following in mind:
Every airport has a car drop-off point, this will make planning easier.
This option could be interesting for families with kids or big groups.
You will need an international drivers license and to look closely to the terms and conditions of the rental, as well as the insurance.
Remember that you will have to be very respectful of traffic regulations for each country, always exercise caution.
Be aware of where you can park, in cities like Amsterdam or Paris this can be a real headache and can mean extra spending. Try to look for lodgings with parking.
It is also important to never leave valuable objects inside the car, there will always be people looking to take what isn't theirs. We know of cases where tourist´s cars were robbed (including documents), so try to not leave valuables inside the car.
Remember that sometimes cars need to be cleaned or have the gas tank filled up before being returned, make sure you are aware of the return conditions.
8. What to do?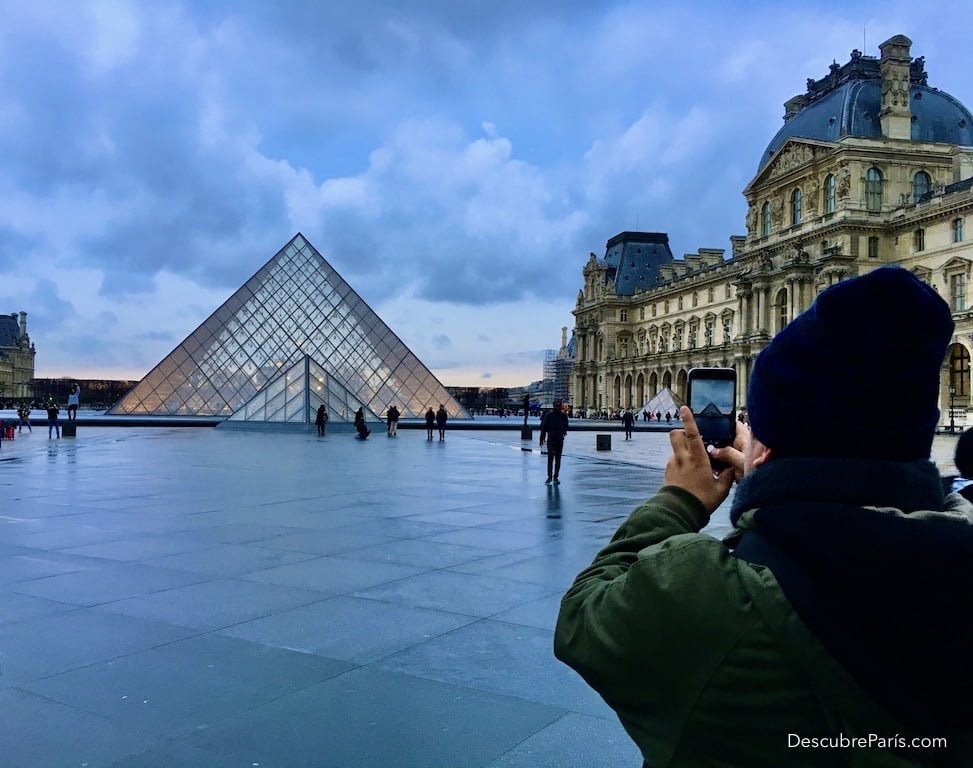 This is one of the big ones. Each city has its own magic, history, and culture. We insist, take your time doing the research into what each has to offer. Here are our suggestions:
Identify the most iconic places in each city, or those you have always dreamed of seeing and try to see them on the first day, just make sure you have a logical and easy to follow route.
In some cities like Rome, people have had good experiences taking the red tourist bus, it will take you around the most important places and it allows you to be relaxed while sightseeing. We think this is a great idea because the metro in Rome is not one of our favorites, the tourist bus will take you where you want to go. In other cities, like Edinburgh we also recommend it because the streets are very steep so your legs will get a workout, and it's important to save up energy. Lisbon is pretty hilly as well, so keep this in mind when you are considering buying a unlimited pass for buses, trolleys, and metro.
If you want to visit museums, in big cities like Paris and Rome it is almost mandatory to buy tickets beforehand. Particularly the Vatican Museum in Rome (the line is endless, trust us). From what we've observed, this has become the norm for big museums: purchase tickets with a specific time and date for your visit, to comply with COVID-19 regulations.
To sightsee around the city there are several alternatives: the well-known freetours, which are not really free since the tourguide works through an intermediary (the platform where you made your reservation) and often are obliged to pay them a commission, they will then transfer this cost to the user, so whatever you decide to give the guide for their hard work will have a commission taken out. As my chemistry teacher used to say, not even electrons are for free.
Another option are private tours, evidently pricier. For example, having a professional guide accompany you for a whole day, in a city like Paris, can cost you between 300€ and 600€ or more (depending on the additional services you acquire, such as private transportation).
If you will be visiting Paris we recommend our Detailed Guides or Personalized Guides that we have designed so the tourist doesn´t have to think too much on what to see or how, and they have a complete itinerary for every day of their trip. They are very reasonably priced, and with our step-by-step guides you won't have to wonder what to do or how to get there, what precautions to have, where to eat (we recommend places where we´ve eaten ourselves), we take you every step of the way. You just have to read it carefully and you will never feel alone. Check them out here: Detailed Guides Descubre Paris.
9. How do I budget?

A very important question for planning your Eurotrip. It is very important to be clear, reasonable, and honest about your budget. Doing this will let you avoid complications and have a more relaxing trip. Here are some of our suggestions:
After researching plane tickets, trains, hotels, activities, and transportation organize everything in a single document and draw up totals of how much you would be spending by city and in Euros. Don´t be scared by the exchange rate, this is normal, but try to see where the highest costs are and evaluate how to lower them, if it's worth it.
Remember that in a single trip to Europe you can´t see, eat, visit and live all the things. Not even the locals can ever see everything of the European cities which are so rich in cultural offerings. It's not just time, but also budget, so don't beat yourself up if you can't have dinner in the Eiffel Tower or go to a trendy restaurant. You can always find good and affordable options.
Set yourself a max daily budget, so you have clear boundaries. You shouldn't be feeling miserable because of budgets, but if you know your spending limits you can find alternatives that fit your budget. For example, instead of going to a restaurant you can do a pique-nique one day, this will save you on food and you can have a really nice time.
Besides lodging, transportation, food, and activities you should add a line for souvenirs and for Unexpected expenses. Many of us love to buy postcards, paintings or little magnets for our fridge that will remind us of our trip and feels like bringing a piece of that city with us. If you do too, budget for it. Unexpected events can also come up: you traveled in Summer, but there was a very cloudy day and you got chilly, you needed to buy something to cover up, this is an unexpected buy. Another example are foot blisters, a cold, a strong headache that forces you to stop by a pharmacy to get some medicine. Budget something for these just in case.
Another important thing is exchange rates and credit card charges on international withdrawals and purchases. Often it's better to pay with your credit or debit card than to exchange a lot of money into Euros. We do recommend having a base amount of cash before you arrive, and always carry some with you, but consider if it's better to withdraw money from your account in the city you are visiting or if your credit card allows you to make international payments and earn points on them. It all depends on the costs.
Speaking of banks, don´t forget to let your bank know that you will be traveling abroad, and how many days so they habilitate your card for international payments and withdrawals. If you don't they may block your card.
Add the cost of an outlet adapter and a rechargeable battery to charge your phone on the go.
10. How to decide? Revisit and adjust your first itinerary
After having your first itinerary and budget, it is very likely that you´ll have to make some adjustments. Here are our suggestions:
Make adjustments considering what is important and non-negotiable to you. Make sure you won't regret not doing one of the things you wanted.
Remember that you will be burning through a lot of energy, distribute it evenly and rest whenever you can.
Seeing the initial budget for 15-20 days in Europe may scare you, but look at it as a plan in progress. Think about what you can do to make it a reality, maybe saving up a little more or if you´ll need financing or other alternatives, but don't close yourself off from making a trip like this even if it seems too expensive.
– Make a checklist of things you can´t forget (seems incredible, but it happens): some people forget booking their hotel, flights or other transportation, which will mean unexpected costs. Try creating a road map that lets you visualize your whole trip and make sure these two things are always covered: transportation and lodging.
As you can see, we added an 11th point to our list. It's a subject that causes people a lot of anxiety, especially women. So here is our suggestion on how to pack your bags.
11. How to pack my bags?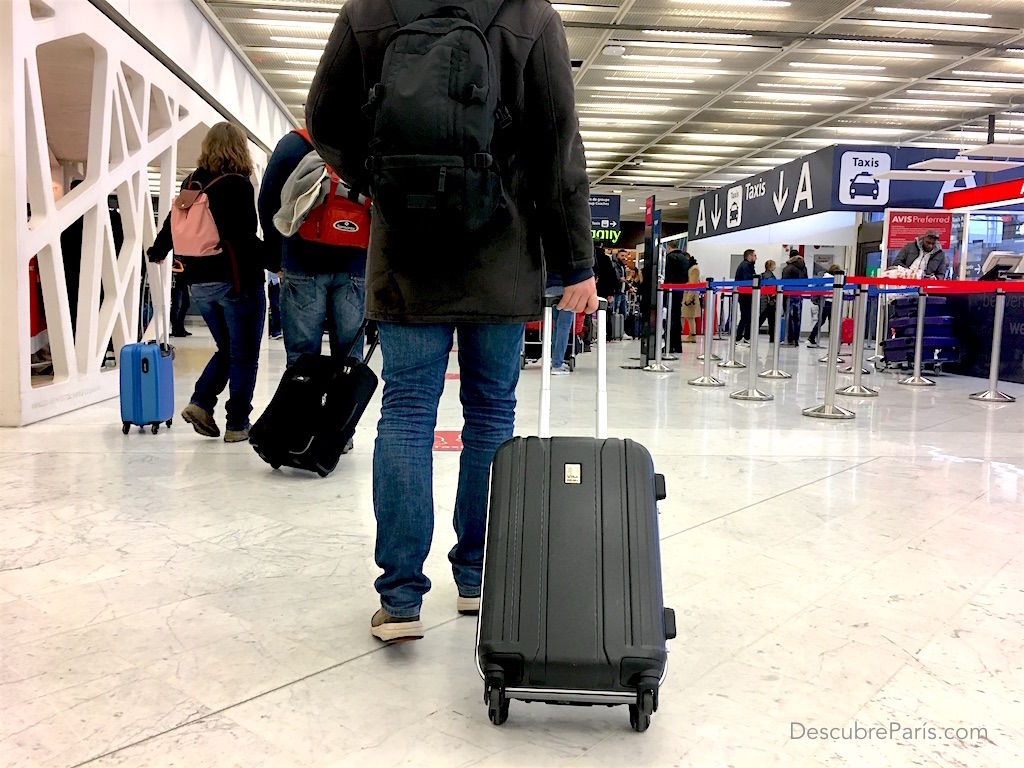 Packing travel bags is its own subject. There are several key factors to keep in mind and we'll share some ideas and suggestions that we hope will make your travelling a little lighter:
Remember to always check the weather when you will be traveling: seasons may change as we mentioned earlier. This will directly impact the kind of clothing you should bring. If you will be coming towards the end of Spring or Summer you´ll be able to bring lighter clothes, but always bring a sweater or light jacket, closed shoes, and something to cover your neck. Believe us when we say that some European cities have chilly breezes, and global warming has made weather even more unpredictable.
Across Europe there are laundromats where you can wash and dry your clothes and have it clean and ready in a couple hours. A washing cycle of 5-7 kilos (11-15 pounds) can cost 3-6€. You need to add the price of soap or detergent between 0,50€ to 1€ or more, and however many drying cycles you need (sometimes one isn't enough). These can cost about 2€ for a 10 minute cycle. If you go this route you will need change for the machines.
Try picking easy-to-match pieces, lightweight and that dry easily and match everything. It is very important to bring comfortable shoes (we can't stress this enough), you will be walking a lot, a lot a lot. We suggest two pairs, so you can switch and let each rest for a day (really, the shoe needs to air out).
Don´t forget an umbrella. A small, light one, hopefully so you never have to use it. It may sound like a joke but the moment you don't have an umbrella on you is when it pours; when you have it with you nothing happens.
– You can read our Before the Trip section for more suggestions on how to dress for each season.
Regarding toiletries, remember that if you are travelling only with carry-on luggage you will need to be resourceful because of the restrictions on the amount of liquids allowed on board. Aerosols are not allowed, and neither are sharp objects. Organize all of your toiletries in a small bag so you can easily find them.
Don´t forget a small first aid kit: if you have allergies or need to take medications it is best to keep them handy. Don´t forget a small first aid kit: if you have allergies or need to take medications it is best to keep them handy. You should also bring along something for headaches, stomach aches or diarrhea.
Remember to bring enough face masks and antibacterial gel, it is mandatory in many places.
Well, we are sure that these 10 important questions to ask yourself when you are planning your first Eurotrip will be very helpful and will give you a good starting ground to make your dream of visiting the old continent come true.
But, in addition we encourage you to download our free Eutrotrip planner, created to help you build your trip
If you have any comments or questions, don´t hesitate to write to us through our contact page and remember to follow our social media:
Instagram: @descubre_paris
Facebook: @ParisDescubre
Paris is waiting for you.
Don´t stop dreaming.