La Samaritaine Paris Pont-Neuf has finally opened its doors to the public. But what's their story? What can you find at La Samaritaine in Paris? What's the experience like? We'll tell you all about it!
HISTORY
Why is it called La Samaritaine?
The history of this place dates to Henri IV. The monarch ordered the construction of a water pump that took water from the Seine River and served the Louvre district, adorned with a statue representing the Samaritan woman and Jacob's well, quoted in the Bible. This pump and the statue were demolished in 1813. The land was bought by Ernest Cognacq, who put up a store called La Samaritaine, which was a resounding success from its first year. He gradually began to buy the surrounding land and married Marie-Louise Jäy, former saleswoman of the Bon Marché,  the first ever department store in Paris. Its success continued to grow, and it became very representative of Parisians. Its parades and parties were very famous.
Why was La Samaritaine closed?
Unfortunately, the business suffered important financial losses and was closed to the public definitively by the Prefecture of Police in 2005 for health and safety reasons.
La Samaritaine today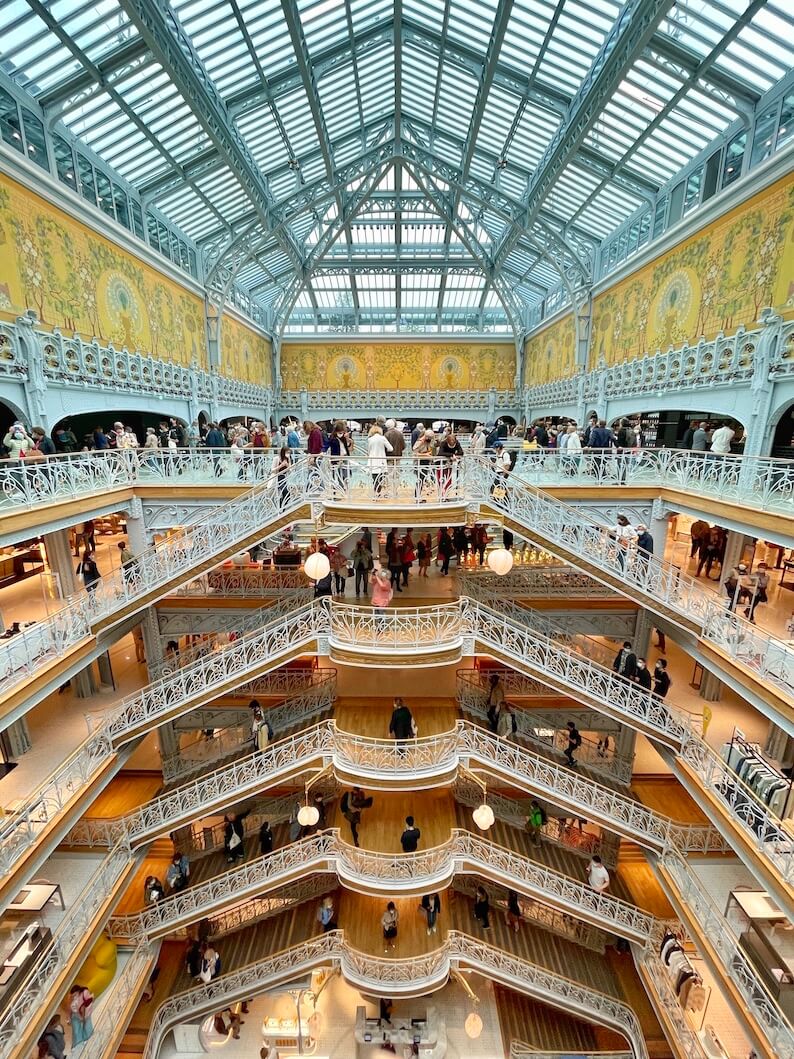 What many people don't know is that the Samaritaine that we see today is not only the boutique as such, but rather a mixed project that has a luxury hotel (Cheval Blanc), offices, day care centers for children and housing, in a framework of respect for the architectural heritage that represents this building. The flagship was bought by the LVMH group in its entirety in 2010. After 15 years of remodeling, the pandemic delayed the reopening of this place to 2021. Needless to say, it already attracts crowds of locals and tourists, making us fall even more in love with Paris!
WHAT CAN YOU FIND AT lA SAMARITAINE?
La Samaritaine is organized by sections and by floors. Although it is mainly a luxury department store, it tries to cater to everyone! Here are a few things you can find at La Samaritaine:
Accessible to all budgets:
La Boutique de Loulou, a miscellaneous-type boutique with a large price range. It is located at the entrance of the store and one can easily fall for any of their souvenirs.
Europe's largest beauty and skin care area: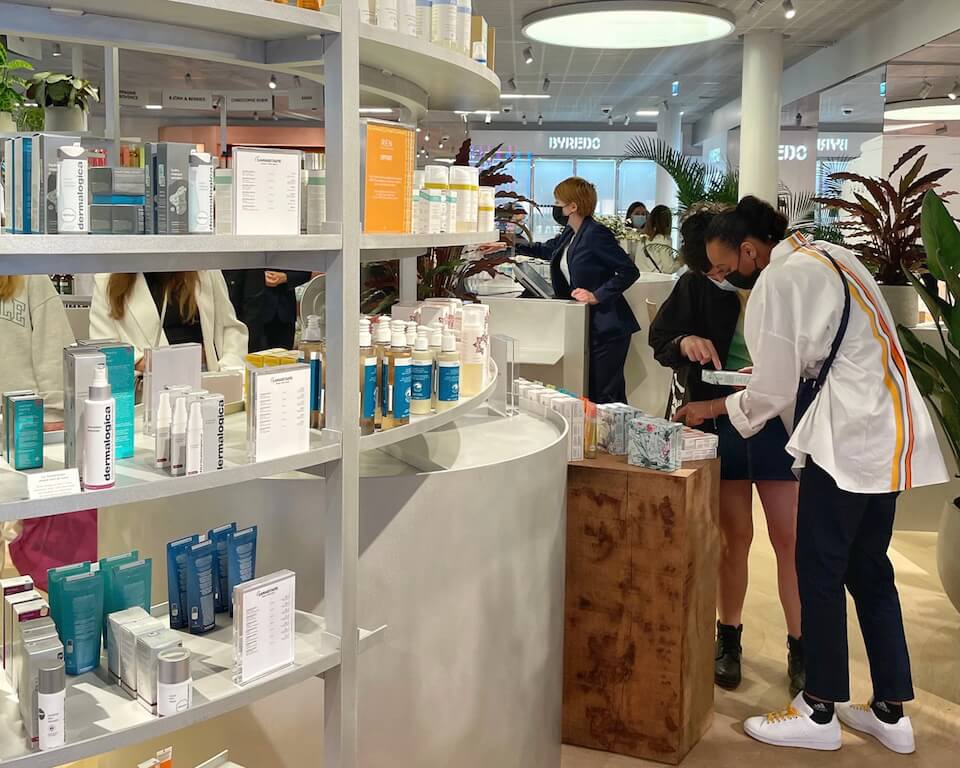 With brands ranging from the most expensive to the most affordable, but all very good quality, the beauty and care space includes of course makeup, perfumes, but also skin care, there is even a makeup bar, a hairdresser, a spa. Difficult to leave empty-handed.
Fashion:
Fashion is organized by floors between men, women, streetwear and outdoor, shoes, bags, watches and jewelry. The luxury brands Louis Vuitton, Dior, Gucci, Bottega Veneta, Prada and many others. What to delight in, be inspired by and crave for.
Dining: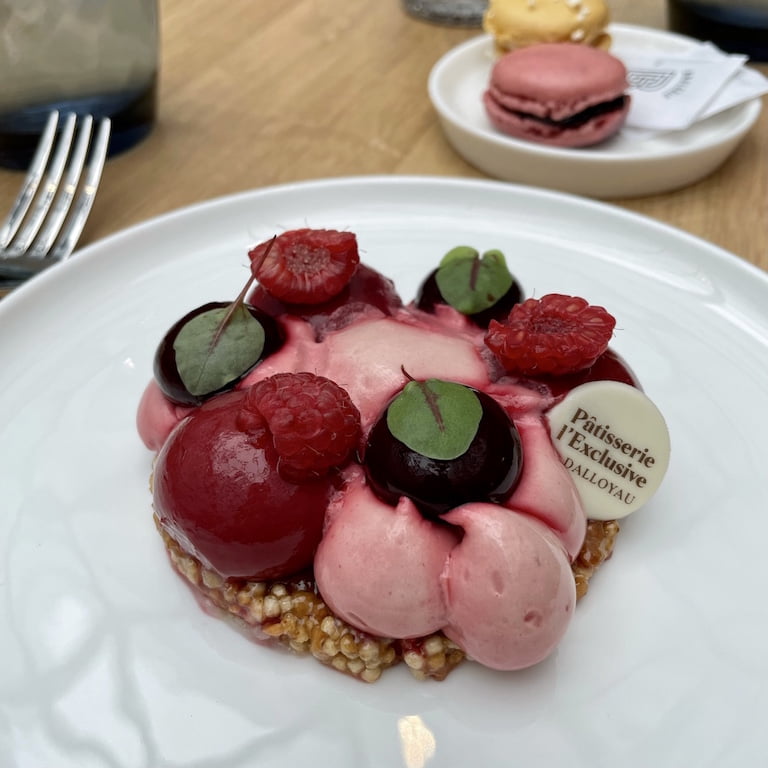 There are over 10 restaurants, cafés, pastry shops and bakeries to complete the experience at La Samaritaine. On the top floor, where the beautiful Art Nouveau stained glass window is located and in front of the peacock fresco, the restaurant "Voyage" (French for "journey"), which combines gastronomy, cocktails and music, stands out. Other places to please the taste buds are: a tea room with desserts by Dalloyau, a new streetfood concept based on Caviar, a bakery bar, a juice bar, a Parisian cafe and much more. We tried one of Dalloyau's raspberry-based desserts and were eager to return.
Fun fact: The waiters and hosts are dressed in Lacoste and their attire changes with the seasons.
Services
There are several services: styling, gift packing (wow), hands-free shopping (someone charges you for everything and you make a single payment at the end), and a very interesting customization workshop or atelier.
Customer service at its best
What did catch our attention and impressed us pleasantly was the kindness and spirit of service of the entire staff. Everyone, everyone, everyone, everyone was happy and glad to see you, and many even came up to you and talked to you! This is amazing and almost hard to believe in Paris, where normally the service is more of "let the customer be free" , "let them manage as they can", or  even "let them ask for help if they need it". At La Samaritaine this is not the case. We enjoyed our experience, the closeness of vendors and it has earned its place as a must in Paris!
PRACTICAL INFORMATION LA SAMARITAINE
La Samaritaine Paris Pont-Neuf
9, Rue de la Monnaie 75001
Opening hours:
Open 364 days a year from Monday to Sunday from 10am to 8pm. Closed on May 1.
Access:
Metro lines 1, 4, 7, 10 and 11.
Chatelet, Louvre-Rivoli, Mabillon, Pont-Neuf
RER A, B and D
Châtelet-Les-Halles
Bus
21, 27, 38, 58, 67, 69, 70, 72, 74, 85.
WANT A PERSONALIZED EXPERIENCE IN PARIS?
The best way to discover Paris is yours. If you want a personalized experience in Paris, send us a message through our contact form, we will be happy to help you live the experience of your dreams.
A bientôt!
Angela
https://www.dfs.com/fr/samaritaine
La Samaritaine in Paris. Photo ©DiscoverParis.com
Link bitly: