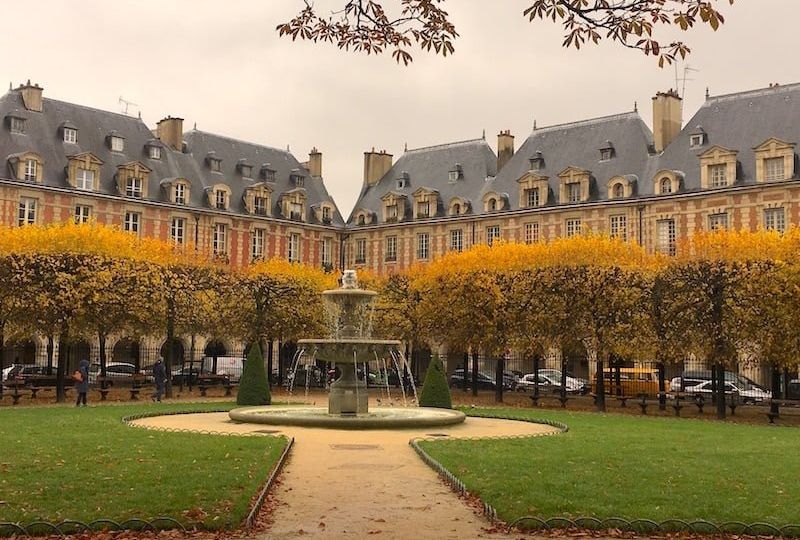 Here are 5 facts about the emblematic Place des Vosges, the first royal square and the oldest in Paris, located in the 4th arrondissement, and a favorite of Parisians.
1. IT WAS NAMED IN HONOR OF THE DEPARTMENT OF VOSGES (VOSGES)
Place de Vosges was called Place Royale for two centuries, then Place des Fédérateurs, Place de l'Artillerie, and after that Place de l'Indivisibility. Until in 1800 it was baptized with the name of Place de Vosges in honor of the department of the Vosges, located to the east of the country, for having been the first department to pay taxes to the Napoleonic empire.
2. ITS LOCATION HOLDS A SAD MEMORY
Where today we see the Place des Vosges there was a palace, the Hôtel des Tournelles, which belonged to the kings of the time. It turns out that King Henri II of France (Henry II) died there, after being wounded in the eye in a tournament during the festivities of his daughter's marriage. His death was very tragic as his agony was quite long and painful. His wife, Catherine de Medici, then decided to destroy the place. The space was subsequently occupied in different ways, until Henry IV, in 1605, ordered the construction of a square with a more festive and elegant vocation.
3. IT IS ONE OF FIVE SQUARES IN PARIS WITH A BASIC GEOMETRIC SHAPE
Its construction was part of an urban development plan of the time, in which public squares with precise geometric shapes were conceived and created: the Place de Vosges shaped as a square, the Place Dauphine in the shape of a triangle, the Place Vendôme which is an octagon, the Place de la Concorde is a rectangle, and the Place des Victoires in the form of a circle.
4. IT WAS HOME TO MANY RENOWN PEOPLE
Since its conception, this square has been synonymous with exclusivity. With its 36 palaces, its symmetrical arches and elegant architecture, this square attracted the wealthy early on. It was also home to very famous people such as Madame de Sévigné (writer), the cardinal and minister Richelieu, and of course Victor Hugo, who lived at No. 6 on this square from 1823 to 1848, where his house-museum is now located. Other political and artistic personalities of our time have resided in this place.
5. IT IS SURROUNDED BY ART GALLERIES, FASHION AND FOOD.
Among the arches of the Place de Vosges you can find a wide variety of art galleries, and even the headquarters of fashion house Issey Miyake. There are also several traditional cafes and restaurants such as Café Hugo or Carrete. Undoubtedly, the star of the show is the secret Queen's Pavilion, a place of total luxury, with its 5 stars and its hanging gardens. It is located at number 28 for those who want to browse or, why not, stay.
Symmetrical and elegant, the Place de Vosges represents the Parisian savoir-vivre par excellence. Do not hesitate to visit this square with our Detailed Guides for 2, 3, 4 or 5 days, so you don't miss the best of Paris. Download them now in our e-shop.
Never stop dreaming. Paris is waiting for you.
Photo ©Discover Paris