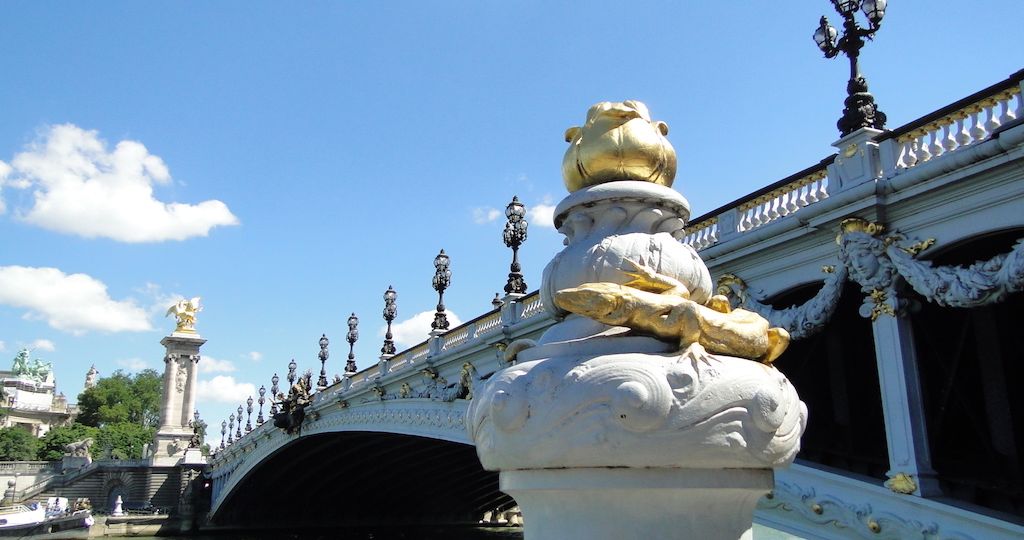 Here are 5 facts about, what we consider to be, the most beautiful bridge in the city of lights: the Alexander III bridge.
The Alexander III bridge was built to celebrate the Franco-Russian alliance between 1896 and 1900 and was named in honor of Tsar Alexander III. The first stone was set on October 1986 with a lavish event attended by Tsar Nicolas II, son of Alexander III.
This is the longest bridge in Paris, spanning 150 meters (492 feet) in length and 40 meters (132 feet) wide. It represented a huge technical feat at its time as this unique structure consists of a single steel support in the center of the bridge. The four beautifully decorated columns on each end of the bridge are mainly there for technical reasons, counter-weighing this horizontal structure.
It was decorated with 22 sculptures and 32 chandeliers, adorned with angels, marine spirits, nymphs, flower garlands, and lighthouses held by angels. It has two golden Pegasus' on each side of the river, one symbolizing war (on the left bank) and the other symbolizing peace (on the right bank).
Under each column of the Alexander III bridge there is a subway entrance (Invalides: 8 and RER C) as well as a restaurant with an underground nightclub (Faust).
This is, without a doubt, the most beautiful bridge in Paris. You have a breathtaking view on each end, and it is, of course, included in all our Detailed Travel Guides, so that you can make your through Paris and fall in love with the City of Light by our side.
So, when are you coming?
Paris is waiting for you…
À bientôt!