There are many things to shop for and enjoy in France (specially food.) But there are other products that are particularly inexpensive for those who come to visit from abroad: skincare products.
Some brands are well known outside of France, in countries like Brazil, Colombia, and Argentina, just to name a few. In these countries these products would be very expensive, but in France they are pretty affordable. The difference is astounding.
We'll be sharing some tricks with you in this post on two of the cheapest drugstores in Paris, because not everything has to be about monuments, art, and history lessons!
1 . What can you find in a Parisian Drugstore
In French drug stores you can find over-the-counter medicine (i.e. cough medicine), acetaminophen, band aids and everyday things that you may need just in case. They also sell prescription medicine, homeopathic drugs, and, lastly, some skincare and beauty products for babies and grown ups: sunscreen, moisturizer, liquid soap, shampoo, body scrubs, serums, etc. It's a whole universe.
2 . Any store in France will be less expensive than in other countries
It doesn't matter if you can´t make it to the cheaper ones in Paris, if you can make a quick stop at any drugstore and buy anything that might be necessary to you, do it. Remember to be mindful about the weight of your bags. Sometimes we can go a little crazy over the prices and variety of products.
But it really is worth it, and it is even cheaper than in some other countries in Europe like Germany or Spain. This happened to me with an Avene sunscreen that I forgot to buy before my trip and I had to get it in Spain for 5€ more than what I would have paid in France.
3 . Be patient
There are tourists everywhere, just like you, who come here to save on their skincare products. The drugstores we'll be talking about are often packed. Try to get to them early on in the day.
4 . Think about the weight of what you buy
Remember that you have a limited number of bags; unless you are planning on getting an extra bag to fill with your new goodies; otherwise you will have to be careful and clever with how you distribute the weight among your bags. We want you to be aware of this because many visitors often get carried away and then when they have to pay for the extra luggage they realize they didn't actually get to save that much.
5 . Customer advisers are there to help you, but also to make sales:
We have to tell it like it is and sales people in these drugstores have commissions that they have to work for, and hit a certain number of promotion sales, sometimes even paid for by brands. This is normal. But I think it is important to be aware of it. There is helping and there is selling. Some sales people speak several languages and will be able to help you find what you want, but they will follow up with "have you heard of this better product?" And the thing is, it's actually true! Avene, La-Roche-Posay, Uriage, (very popular brands in in Latin America) are mainly known for sun protection and not for their skin care and anti-aging properties. They will always try to upsell you other products with other prices and stronger formulas. We are not saying this is bad, we just want you to be aware so you feel more comfortable saying to the sales people that you don't want or can´t buy what they suggest, or if, on the other hand, you are looking to find new brands. There are plenty of great brands like Sanoflore, Caudalie, Patyka, Filorga.
So, finally, the two cheapest drug stores in Paris:
1 . CityPharma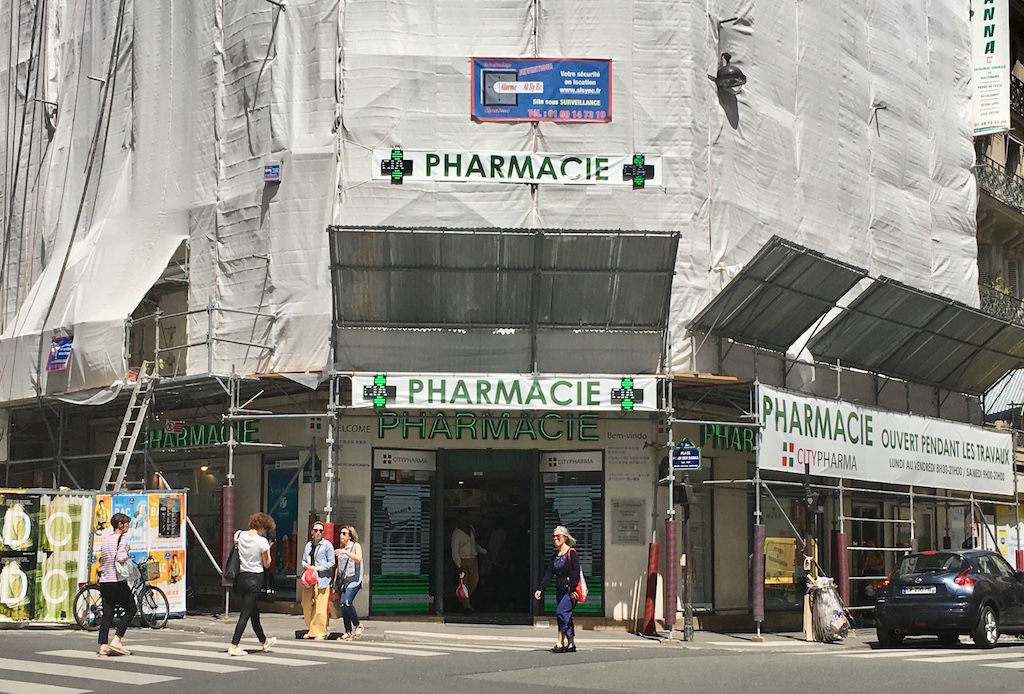 A couple of steps away from Saint-Germain, you can find one of the cheapest drug stores
in the city, located on the corner of Rue Bonaparte and Rue du Four. It is always very busy due to their very compelling prices, and even though they have tried expanding it always fills up fast. Our recommendation is to go early in the morning and have a clear plan of what you are looking for.
The entrance floor has all the skincare and the other floors have other products.
About Détax or Tax-Free Shopping: what we have been told about this drugstore is that tax-free shopping doesn't apply to all products and needs to be processed the same day as the purchase. To ask for it you will need your passport. In another blog entry we will explain about this interesting trick for those of you looking to do much shopping.
Practical information:
Address: 26 Rue du Four 75006
Métro: Line 10, Mabillon stop and Line 4 Saint-Germain-des-Prés stop.
Hours: During Summer, Monday through Friday 8:30 a.m. – 9:00 p.m. and Saturdays from 9:00 a.m. During Winter, open until 8:15 p.m.
Website: CityPharma
NOTE: The building where you can find CityPharma went into reparations, but the drug store remained open.
2 . Pharmacie Monge
This drug store is located in the Plaza Monge, in arrondissement 5, just outside of the metro station, Line 7, Place Monge. The prices are also very compelling, but perhaps the most interesting thing about this one is that it is open day and night. Yes! All night, and some Sundays according to the on-call drugstore schedule (there are some that have to be open through Sundays.) The staff is very friendly.
About Détax or Tax-Free Shopping: it is possible to get tax-free shopping done here and they process it themselves, which is why you have to be patient and wait for the paperwork to get done, if not you´ll have to go through the Tax Exemption Booth at the airport. You will absolutely need your passport. In another entry we will explain about this interesting trick for those of you looking to do much shopping.
Practical information:
Address: 1 Place Monge 75005.
Metro: Line 7, Place Monge station and Bus 47, Monge stop.
Hours: 24 hours! From 00:00 to 23:59. Hours: 24 hours! Except on the Sundays when it has to open, approximately two Sundays per month.
Website: CityPharma
We hope this information will be helpful to you on your trip. We want you to make the most of your stay in Paris. Don´t forget to check out all the other articles we´ve written for you on our blog.
Paris awaits…
À bientôt!